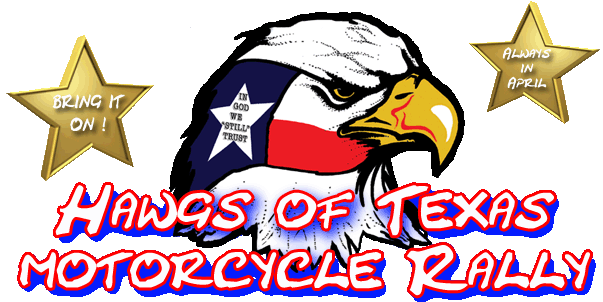 PRIVATE INVITATION ONLY
Private Event until further notice
The Very Best Little Rally In Texas
Giving 100% to Charities That are 100% Volunteer Driven.
Check Back Often For Further Information, Updated Pages, and More Awesome Details.
Always Expect That Unexpected and Much More! After All It Is the only H.O.T. since 2005.
Hawgs Of Texas Motorcycle Rally
IS NOT
being held anywhere on land is 2019.
Hawgs Of Texas is taking a break right now due to owners health issues
and will not be open to the public at this time.

However, we do hope to see you all again
in the future when and where we return.

Gods Speed
WARNING...WARNING...WARNING...
The Center for Biker Disease Control (CBDC) has issued a medical
alert about a HIGHLY CONTAGIOUS, potentially dangerous virus
that is transmitted orally, by hand, and even electronically.

This virus is called Weary Overload Recreational Killer (WORK).
If you receive WORK from your boss,
any of your colleagues,
or anyone else via any means whatsoever

DO NOT TOUCH IT.

This virus will wipe out your private life completely.

If you come into contact with WORK, you should immediately leave the premises.
Take a few good friends to the nearest grocery store
and
purchase one or both of the antidotes,

1- Work Isolating Neutralizer Extract (WINE)
and
2- Bothersome Employer Elimination Rebooter (BEER).

Then follow these simple instructions.
Check this website for further support
and attend a private event when available information is posted here.
While at the only H. O.T. Events you will then take the antidote repeatedly
for several days until WORK has been completely eliminated from your system.

You should immediately forward this medical alert to every biker friend you know.
If you do not have biker friends, you have already been infected and WORK is controlling your life.
Don't worry, there is a cure and we have your back.
All you need to do is make plans now and come join the Hawgs of Texas
for a SURE CURE for several fun filled days.
It's a Guaranteed CURE of this horrible WORK virus.

GET THE ANTIDOTE TODAY AND GET YOUR CURE NOW!


LET'S WIPE OUT THE WORK VIRUS FROM OUR SYSTEMS!
GET SUPPORT AND ALL THE DETAILS RIGHT HERE WHEN AVAILABLE

WWW.HAWGSOFTEXAS.COM
WARNING...WARNING...WARNING...


YOU MIGHT JUST GET THE BEST LITTLE RALLY IN TEXAS PARTY BUG!!!